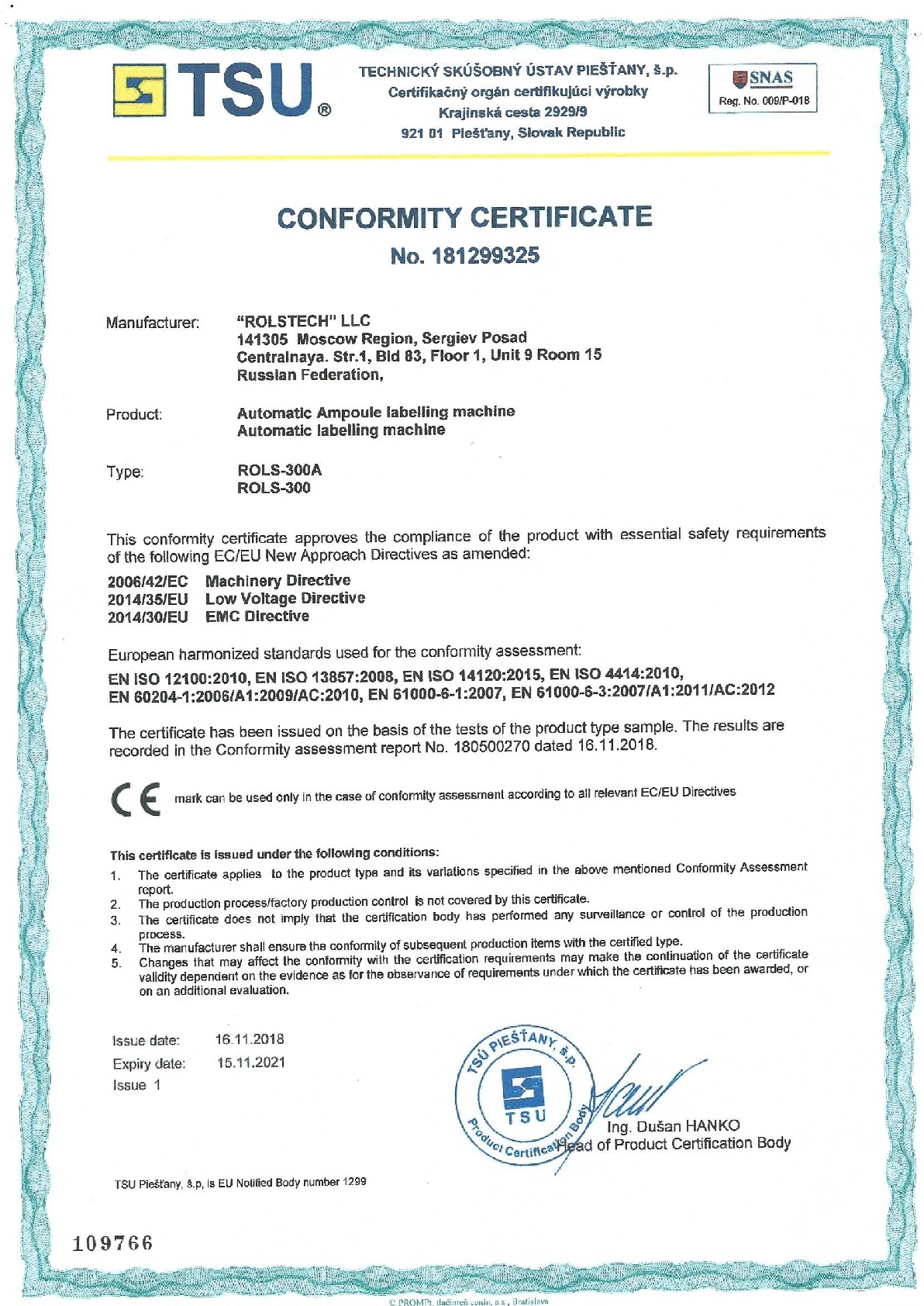 Capacity up to 300 vials per minute (depending on the container diameter, label length, etc.)

System of Automatic Set

 put the vial on the conveyor

 press button «SAS system», The machine is ready to operate
 press button «START» To start the machine (see video)

Rejection 

(vial without label, vial with wrong label, with wrong pharma code, wrong diameter of the vial, wrong or absent coding, etc.)

Automatic stop

in case of fallen vial
1. Label application unit
2. Loading/receiving conveyor table
SAS functions
SAS: measures length of label, diameter of container to synchronize all moving parts: conveyor, separator, applicator, belt
Auto stop and case of fallen container
Auto stop in case of no label on the roll
Auto rejection of the container in case of no label
Auto synchronization of all moving parts when changing the speed of the conveyer
Functional features
LCD control panel in English
Manual adjustment of the automatically preset parameters (if necessary) with possibility of their storage in the memory of the machine
Up to 100 receipts in the memory
Counters of total and rejected vials quantity (option). Separate counters for errors: (wrong pharma/bar code, no variable data coding, no label) are optional..
Alarm signal will sound when countdown falls below 500 labels. The machine stops at the end of the roll.
Application accuracy: ±0,5 mm (if ampoule has regular geometry)
4 levels of password
Audible and visual alarms
Conveyor
100mm plastic chain or belt conveyor
Base, frame and side panels are made of stainless steel
Adjustable speed of the conveyer- up to 24 m/min
2100mm without rejection unit
2500mm with rejection unit (option)
Labeling head
Duraluminum frame
Servomotor: maximum speed is 48 m/min
Adjustable height of the label applicator
Label is pulled through be the feeding and pressing roller.
Rollers and tension points are made of aluminum, stainless steel or POM
U-shaped infrared label sensor for regular paper labels detection
Product separator
One separating wheel
Adjustment of electric motor from HMI
Wrap-around station
Made of duraluminum
Wrap-around belt width – 120mm
Wrap-around belt speed: up to 48 m/min
The speed of the conveyor, wrap-around belt and labeling head is synchronized automatically.
Label size
Height: 14 mm — 115 mm
Length: 14 mm – 300 mm
Requirements for vials
Vial diameter: 14-100 mm
Height of the labelling space on the vial: 14-140 mm
Hot printer
For variable data application by means of thermal printing.
Printing from 1 to 3 lines on horizontal and vertical axis.
Standard set of digits 120 pcs. (0-9 digits – 10 pcs each, spacers). Printing type: 1,5 mm, 2.0 mm or 2,5 mm. Additional symbols (option).
Thermal tape pulling is adjusted from the control panel.
Time interval is adjusted from the control panel.
Thermo controller to keep the preset temperature of the printing head.
Sensor for detecting torn label tape.
Printing area
Printer is designed for printing variable data (3 lines, 15 characters each) in any direction. Possible directions of the printing are shown on the drawing below:
Jet cartridge printer Micron HP TIJ 2.5
Micron — a unique compact printer with integrated controller, which suits for integration in various production lines that require low cost solution.
TIJ 2.5 technology by Hewlett Packard Company.
Files for printing are created with the help of the supplied software and transmitted to the controller via USB-key. The message can be stored in the printer's internal memory.
Printing with 300 x 300dpi resolution. Graphics, counters, text, numbers, barcodes (fixed), date and time (permanent and actual), 3 print fonts (True Type).
Printing height 12.7mm. The printer has no concept like «number of lines». It prints everything you can place within 12.7mm space.
Wide range of inks
Rotary table (feeding/collecting)
Standard rotary table for loading or collecting of the product. Standard diameter 680mm (it is possible to make table of other diameter (but not more than 900mm) as per Customer's request).
Smooth speed adjustment. Body, panels and surface of the table are made of stainless steel.
Loading/unloading tray for rotary table
Tray makes feeding of vials to the rotary table or discharge from the rotary table easier. Unloading tray can be installed at the outfeed instead of rotary table.
Collecting conveyor table
Rejection unit
Device for automatic vial rejection from the conveyor without machine stopping. Vials are rejected in case if any sensor described in section "Options" is activated and also in case of the absence of labels on the roll. Vials with diameter less than 40mm on a high speed up to 140 pcs/min will be carefully moved out of the conveyer in vertical position into the tray for rejected containers. Containers of other diameters will be pushed out to the tray.
Sensor for operational readiness control of label pulling through unit
Label presence control sensors
2 sensors on both sides of the conveyor after the wrap around unit (standard). Sensors will give signal to stop the machine or reject container in case of label absence.
Clear label presence control sensor
This sensor can recognize both regular and transparent labels (ultrasonic U-shaped sensor).
Control system to avoid overload of containers on the conveyer at the inlet/outlet before separator
The sensor on the outfeed of the machine will give a signal to stop separator and containers infeed. Separator will start automatically after containers move out of the machine. Sensor at the infeed of the machine will give a signal to stop previous machine in line.
Vial presence control system in front of the separator
Star-wheel for vial separation
This change part is installed instead of the separator wheel to provide even vial separation at the speed higher than 100 pcs/min.
Linear barcode control
Single-line laser scanner Leuze BCL 21 S M 310.
The scanner is controlled from the control panel of the machine.
| | |
| --- | --- |
| Codes | 2/5 intermittent code; Code 39, Code 93, Code 128, EAN 128. EAN/UPC; EAN Adendum; Codabar; Pharma Code |
| Light source | Laser diode, red 650 nm, safety class 2, class II according to CDRH |
| Speed | 1000 scans/с for М version. 800 scans/с for versions N, F. |
| Resolution | BCL 2x SN 0,15 … module width 0,2 mm |
| | BCL 2x SM: 0,2 … module width 0,8 mm |
| | BCL 2x SF: 0,5… module width 1,0 mm |
| Beam deviation | Through the rotating cylindrical mirror |
| Distance | 50 … 450 mm (depending on the optics type: N, F, M) |
This system is designed to control the barcode applied on the label. In case of wrong bar code detection, the machine stops or rejects the container with the wrong label.
The two—dimensional bar code control system
System includes a video sensor with integrated display and lighting, which is controlled by a programmable machine controller. In case of wrong code detection on the label, the machine stops or rejects the wrong vial (with optional rejection unit).
Resolution can be set up to 752×480 pixels
Easy setup without PC
30 programs in the memory
Detects the following codes:
DataMatrix (ECC 200) barcodes
QR Code (QR and Micro QR)
Linear barcodes: Code128, Code39, CODABAR, Interleaved 2 of 5, EAN13, EAN8, UPCE, Postnet, IMB, and Pharmacode
The quality control system of variable data printing (camera): presence, position, definition
System includes a video sensor with integrated display which is controlled by a programmable machine controller.
System monitors the printing quality in accordance with the previously set range of pixels for every object in a certain scanning area, as well as in accordance with the numbers of objects in this area.
In case of wrong image detection (different from the previously set image), the machine stops or rejects the wrong container (with optional rejection unit).
Easy system set up without PC.
Resolution can be set up to 752×480 pixels.
30 programs in the memory.
Adjustable focal distance.
Transparent safety guards are installed around the machine to prevent access to the moving parts during machine operation.
Interlocks prevent start of the machine, or stop the machine during operation when the doors are opened.
HMI, start/stop buttons and emergency stop button are installed outside the safety guards.
Set of recommended spare parts
Three-color signal lamp
Vial stabilization unit
Two vertical rollers on the moving platform press vial lateral side to the wrap-around unit during the label feed. This option allows to apply label more evenly, because affection of vial bottom position in relation to side surface, is avoided. Please note, that labeling speed is reduced twice during usage of this option.